While viewing this site preferably (use for the viewing preferences) Text Size "Larger" than the medium and set the monitor display for the "Maximum Brightness".If the text size at larger is inconveniently large for navigating then set it to "Medium"or to "smaller"
For navigating through the pages(HOME page and subsequent pages #1 to #10)look below at the end of each page the titles of the pages as the runner underlined and on each title set the cursor and "click".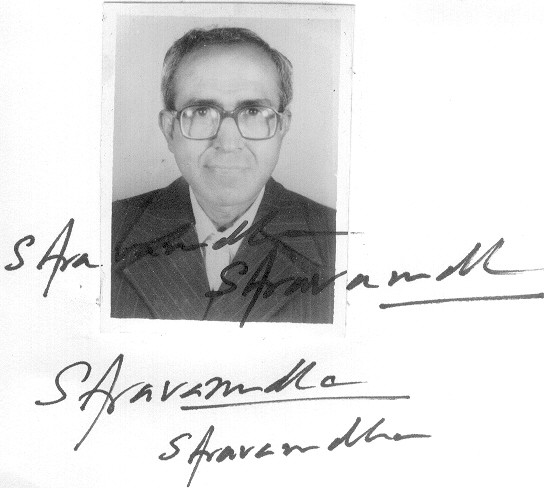 PARTCULARS ABOUT THE AUTHOR
Attained the age of Superannuation on 30-11-2006 http;//www.geocities.com/amudhan20012000/Addresspage.html


Educational:
===========
Higher Secondary School Leaving Certificate, Z.P.M.P.High School,Chittoor,Andhra Pradesh (A.P.),India ,year 1962
B.Sc., Mathematics,Physics and Chemistry(general), Government Arts and Science College, Chittoor, A.P.,India , 1962-1965 Grade Obtained: Distinction (marks >75%) with university second rank of merit.
M.Sc., Physical Chemistry, Sri Venkateswara University, Tirupati,A.P.Grade Obtained: A+ (68%-75%), year 1968
Ph.D., Department of Chemistry, Indian Institute of Technology,Kanpur,U.P., India Thesis on: Experimental Studies on Overhauser Effect in Free Radical Solutions, year 1975



Professional Positions (with dates):
====================================
Demonstrator in Physics, G.A & S Colege, chittoor, Andhra Pradesh,India, year 1965-66
Post Doctoral Fellow,Max planck Gesselschaft, at Max planck Institute fr Medizinische forschung, Abteilung Molekulare Physik. Heidelberg, Germany , year 1975-77 in the research area of High Resolution NMR in Solids: multiple pulse line-narrowing experiments for the determination of Shielding Tensors of Proton in single crystals of organic molecules. Experimental design and construction of rf Probes for the proton enhanced rare nuclei detection of N15 containing single crystal specimen.
An extendable-basis adhock appointment as wissenschaftliche mitarbeiter in the Fach Bereich Physik at the Institut fr Atom und Fest Krper Physik, Free University of Berlin, Berlin Germany in the Sonder Frschungs Bereich: Optical Nuclear (proton) Polarisation Enhanced detection of Rare Nuclei by Hartmann-Hahn proton polarisation transfer technique followed by rare spin FID detection for the determination of the Shielding Tensors of Rare Nulclei. Year 1977-78.
As Scientist at National Chemical Laboratory, Pune, India during 1979-80. at the FT NMR facility of NCL. As Research Associate at the Department of Chemistry, Indian Institute of Technology,Kanpur,U.P., India in the research project on Multiple Pulse Line Narrowing Technique for Nuclear Quadrupole Resonance Studies, during 1982-83.
1985-2006, Lecturer, Department of Chemistry, North Eastern Hill University, Shillong, teaching & Research in Physical Chemistry.
Attained the age of superannution on 30-11-2007
Current Status: Professor /Post-retirement



Professional Memberships and/or Awards:
=======================================

Currently a Member of the Executive Committee of the NATIONAL MAGNETIC RESONANCE SOCIETY , India
A life member of the NMRS
A life member of the Indian Biophysical Society




Recent Publications (last 3 years):
===================================

1. Investigating the Feasibility of Calculating Intermolecular Shielding Tensors Using a Magnetic Dipole Model,S.Aravamudhan, page 501, Proceedings of the Joint 29th Ampere-International Conference on Magnetic Resonance and Related Phenomena, Technische Universitt Berlin, Berlin, August 1998. (efforts are on to publish these results in referred Journals)
2. On the possibilities for a Method to Facilitate Membrane Transport Studies Based on Bulk Magnetic Susceptibility Differences and NMR,S.Aravamudhan, Journal of Biosciences, Vol.24. Supplement 1, page 132 ,(1999). XIII International Biophysics Congress, poster P284, Sept. 1999, New Delhi, India.
3. Calculation of Cavity Field in a Spherical Sample with Concentric
( Order and Inner) Compartments, S.Aravamudhan, National Symposium on Magnetic Resonance and Biomolecular Structure and Function, Jan.2000, T.I.F.R.,Bombay.
4. A Report on the Demagnetization Factor and Induced Field Calculations for Standard Sample Shapes, S.Aravamudhan, Symposium on Spatially Resolved Magnetic Resonance & 7th NMRS Symposium, C.L.R.I / I.I.T.,Madras, Feb.,2001,Chennai.
5. Induced Fields Due to a Magnetized Specimen, 2nd Alpine Conference on Solid State NMR, Chamonix Mont-Blanc, France, Sept. 9-13,2001, Poster 2.
6. Induced Field Distributions in Heterogeneous Samples, XIV International Biophysics Congress, Buenos Aires,ARGENTINA April 27-May 1,2002 Poster 22-01.
######################################################

LIST OF CONTRIBUTIONS/PUBLICATIONS
==================================

1. Electron-nuclear Overhauser Effect Studies in Solutions of Organic Free Radical :S.Aravamudhan and P.T.Narasimhan , Fifth International Conference on Magnetic Resonance , TIFR Bombay , India (1974) IC 1
2. Lineshape and sign of asymmetry Parametr of 35Cl Nuclear Quadrupole Resonance in a Powder Sample of BCl3 : K.V.raman , S.Aravamudhan and P.T.Narasimhan , Proceedings of the 2nd International Conference on Magnetic Resonace , Italy (1973) IC 2
3. Qualitative Improvement of Resolution in High Resolution Proton Magnetic resonance in Solids : U.Haeberlen , S.F.Sagnowski , S.Aravamudhan and H.Post , J.Mag.Res., 25 , 307 (1977 ) RJ 1.
4. PMR Study of Single Crystals of Malonic Acid ; Shielding Tensors of Methylene Protons : S.F.Sagnowski , U.Haeberlen and S.Aravamudhan , XIX Congress Ampere on Magnetic Resonance and Related Phenomena , Heidelberg , West Germany (1976) IC 3
5. High Resolution PMR Study of Single Crystal of PMDA: S.Aravamudhan and U.Haeberlen , Meeting of the Deutsche Physikalische Gesselschaft , Mainz , West Germany , (1977) IC 4
6. Proton Shielding in Single Crystals of a - Oxalic Acid Dihydrate ; Comparison with Deuteron Shielding : S.Sagnowski , S.Aravamudhan and U.Haeberlen , J.Chem.Phys., 66 , 4697 , (1977) RJ 2.
7. Wide-line and High Resolution Proton magnetic Resonance in Single Crystals of Malonic Acid: S.F.Sagnowski , S.Aravamudhan and U.Haeberlen , J.Mag.Res., 28 , 271 (1977) RJ 3.
8. Pyromellitic Acid Dianhydride ; Crystal Structure and Anisotropic Proton Magnetic Shielding : S.Aravamudhan , U.Haeberlen , H.Irngartinger and C.Krieger , Molecular Physics , 38 , 241 (1979) RJ 4.
9. An Aspect of Hgh resolution PMR in Solids at Higher Magnetic Fields : S.Aravamudhan and P.T.narasimhan , 14th Annual meeting of the Association of Magnetic resonance Spectroscopists of INDIA , IISc Bangalore , India (1983) NS 1.
10. Use of Magnetic Diploe Model for the calculation of Shielding Tensors , S.Aravamudhan and A.Tomba Singh , 3rd NMRS Symposium , IIT Delhi , New Delhi , India (1997) NS 2.
11. Implications of Calculating the Full shielding Tensor of Protons in Benzene Molecule Using a Magnetic dipole Approximation : S.Aravamudhan and A.Tomba Singh , 4th NMRS Symposium, IISc Bangalore , India (1998) NS 3.
12. Investigating the Feasibility of Calculating the Intramolecular Shielding Tensors Using a Magnetic Dipole Model: S.Aravamudhan , Proceedings of the Joint 29th Ampere and 13th International Conference on Magnetic resonance and related Phenomena , Technische Universitt Berlin , Berlin , Germany (1988) IC 5
13. On the possibilities of Calculating Demagnetization Factors by Lattice-sum method Considerations : S.Aravamudhan , 5th NMRS Symposium , Dehradun , India (1999) NS 4.
14. On The possibilities for a Method to Facilitate Membrane Transport Studies Based on Bulk Susceptibility Differences and NMR , S.Aravamudhan , Journal of Biosciences , 24 , Supplement 1 , page 132 (1999) . XIII International Biophysics Congress , Poster P284 , New Delhi , India (1999) IC 6 & RJ 5.
15. Calculation of cavity Field in a Spherical Sample with concentric Spherical (Outer and Inner) Compartmens : S.Aravamudhan , National symposium on Magnetic Resonance and Biomolecular Structoure and Function , TIFR Bombay , India (2000) NS 5.
16. Computational Simulations and Sensitivity of the Electrochemical Analytical Techniques : S.Aravamudhan , in Anlytical Techniques in Monitoring Environment , Section 4.40 ,pages 647-652 , Editor Prof.S.Jayarama Reddy, Students Offset Printers , TIRUPATI , India (2000) IC 7
17. A Report on the Demagnetizatiopn Factor and Induced Field Calculation for Standard sample Shapes : S.Aravamudhan , Symposium on Spacially Resolved Magnetic Resonance and 7th NMRS Symposium , CLRI / IIT Madras , Chennai , India (2001) NS 6.
18. Induced Fields Due to a Magnetized Specimen : S.Aravamudhan , 2nd Alpine Conference on Solid Stae NMR ; New Concepts and Application , Poster 2 , Chamonix Mont-Blanc,France,Sept .2001 IC 8
19. Shielding- and Demagnetization Factor Calculations: Fragments Making up the Whole Molecule,Semimicro Volume Elements making up the Whole Volume, 8th (Symposium)Annual Meeting of the NMRS,CBMR,SGPGI,Lucknow,U.P. Jan.,2002 NS 7
20.Applicability of Reported Simple..........for Macro(bio-) Molecular Structure" ,Discussion Meeting on Structural biology and Biophysics, Department of Crystallography and Biophysics, University of Madras, Guindy Campus,Chennai .Jan.,2002 NS 8

21. Induced field Distributions in Heterogeneous Samples, XIV International Biophysics Congress , Buenos Aires, Argentina , April 27-May 1,2002:Poster 22-0
An updataed version of the resume would be available at http://aravamudhan-resume.rediffblogs.com

IC# stands for International Conferences/Congresses/Symposia

NS# stands for National(indian) Symposia/Conferences

RJ# stands for Refereed Journals

Total=21
The curriculum Vitae currently updated as can be displayed from the URL: http://geocities.com/saravamudhan1944/aravamudhan_resume.html
This page last updated on: